The time is now
GO ROGUE WITH RAINBOW MOSHO
GET THE BOOK NOW!
You can find it on Amazon — https://www.amazon.com/author/rainbowmosho
Paperback and Kindle Versions —
Own a piece of history in Rainbow's path as a teen artist and author on the autism spectrum.
Yes, you will have a Rainbow Mosho art exhibit in your home, school.
Also, art created by young artists is included in this masterpiece –
A foreword by Genesis G is for GREAT
Editor – Stephanie Anast
Education Contributor – Patty Monge
the artist
RAINBOW MOSHO is the teen artist and author on the autism spectrum creator of the Rogue Girls collection. A total of 25- 1/1 – hand drawn Rogue Girls from around the world will be ready to awaken your adventurous side.
the mission
25 girls from around the world do amazing things, wear incredible clothes, have magical stories and break away from the norms and expectations in their culture.
the process
Each creation was generated on Rainbow's iPad – using her right hand index finger.
Each creation will be available as NFT.
ROGUE GIRLS RULE, the first book, was published on October 2022.
NFTs in OpenSea and Merch available in Red Bubble. A very special Journal – Summer 2023!
Why ROGUE GIRLS?
December 2021 – Rainbow Mosho was exposed for the first time to a fashion magazine. She could not relate to what she saw.
She asked: "What is the meaning of this? I cannot relate to those girls because I do not know their story."
She liked the covers with Rihanna and Lupita N'Yongo.
She said: "I know the word Rogue. It means to break the law. I will create magazine covers with stories that I can relate to.
Each Rogue Girl from 50+ countries will appear on the cover of her magazine called Rogue.
Sh
e titled it
Rogue
because some
girls
have to trespass the boundaries of what society expects them to do in order to achieve their dreams or break away from difficult sit
uations.
Rainbow has written stories for each of them and the art is very special and the themes are international in scope. Including sociopolitical (from her perspective as a 13 year old on the autism spectrum), Mythology plus her Imagination.
Saorise is a 3 year old Selkie who lives with her Pod & Mum in the Sea of Ireland.
COLORING PAGES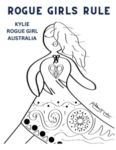 cLICK THIS LINK TO DOWNLOAD AND COLOR THE PAGES * SHARE IN SOCIAL MEDIA @rAINBOWMOSHO

ROGUE GIRL SIERRA LEONE ART AND STORY CREATED – DONATION TO TROGLODYTE SOCIETY TO SUPPORT THE MISSION TO RESCUE KIDS – GO TO THIS LINK TO READ THE STORY, ENJOY THE ART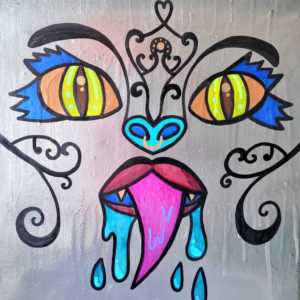 TANIWHA – NEW ZEALAND MAORI
ROGUE GIRL MEXICO – ANACAONA @SPATIAL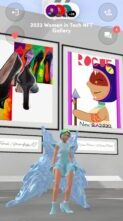 WOMEN IN TECH 2023 EXHIBIT HOSTED 80+ FEMALE CREATORS * cLICK HERE TO VIEW THE GALLERY

sPOKEN WORD PERFORMANCE
MEXICO
ANACAONA
Anacaona is a 15 year old Aztec Girl of the Golden Puma Tribe in the Mountains who spent her Quinceañera fighting evil and ended up saving Mexico.
She's seen as a Hero & Inspiration to many Females, including little Girls.
Her name means "Golden Flower".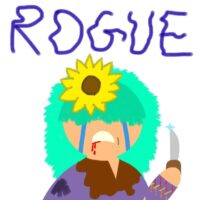 UKRAINE
BOHUSLAVA
Bohuslava is a Teenage Girl who lives in the Ukraine and has just lost her Beloved Family & Friends because of the Russian Invasion.
Traumatized and Heartbroken, Bohuslava becomes filled with Everlasting Fury to get Revenge after what had Unforgivably happened.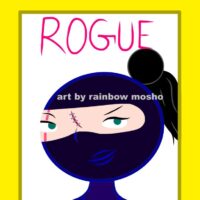 JAPAN
CHIYO
Chiyo is a 13 year old Japanese Girl who was born into a Family of Ninjas, but only Males are allowed to be Ninjas instead of Females.
One day, two Robbers stole a Sacred Gem from Mt. Fuji.To get the Gem back, Chiyo immediately dove into action and fought off the Robbers. During the Fight, the two Robbers cut her Face which gave her two Permanent Scars.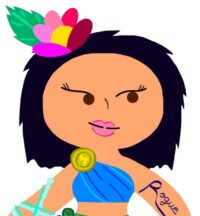 GREEKARICAN
ATHENESTRELLA
AthenEstrella is a 13 year old Girl, whose Father is Puerto Rican and her Mother is Greek, making her a Greekarican. Even though she's been Judged & Rejected her whole entire Life by Thoughtless people, AthëñEstrełłæâ is determined to make this World a Festive, Safer, Creative, Colorful, Loving, Respectful, Greener, Healthier, Understandable, Extraordinary, Diverse, more Positive & Anti-War place.