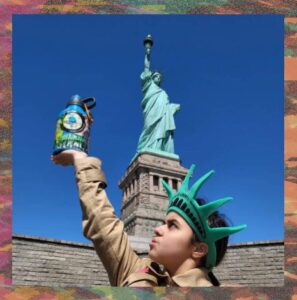 I am on the autism spectrum
My diagnosis does not limit my ability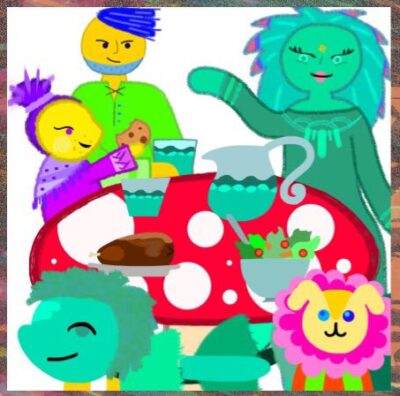 I dream of a better world
I seek new opportunities for growth
I know I cannot do this alone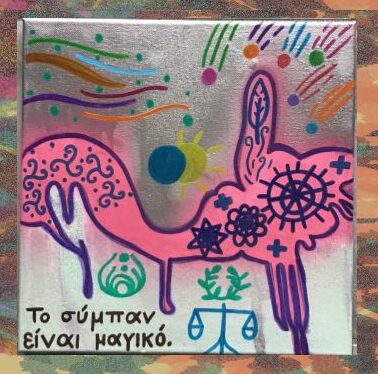 My cultural heritage influences my creations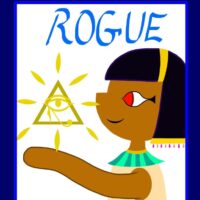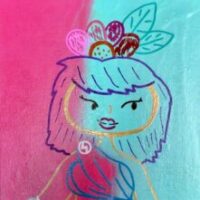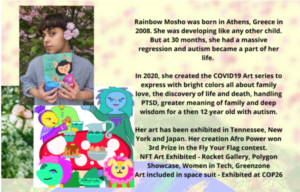 who is rainbow mosho
artist, author, entrepreneur, reporter, hos Rainbow Mosho was born in Athens, Greece in 2008.
She was developing like any other child. But at 30 months, she had a massive regression and autism became a part of her life.
In 2020, she created the COVID19 Art series to express with bright colors all about family love, the discovery of life and death, handling PTSD, greater meaning of family and deep wisdom for a then 12 year old with autism.
Her art has been exhibited in Tennessee, New York, California, Florida and Japan.
Commisioned by Nashville BCycle – Art on bicycles project with Nashville Public Library – Spring 2022
TEENS Take the Frist Exhibit Summer 2022 – GreekaRican Me
AUTHOR'S Panel – Hendersonville Public Library – August 2022
Artful Autism Gala, Oregon – July 2022
100 Taylor Arts Market – Nashville TN – July 2022
The Autism Museum at Focal Point Gallery NYC – July 2022
1 of 5 winners – Flower Girls Art contest – May 2022
Speaker – MAYO Clinic EverybodyIN Series – May 2022
Autism Museum exhibit – NYC – April 2022
Antikythera Art Exhibit – Customs House Museum – April/May 2022
Featured Guest/Sponsor – Young Authors Contest – Give4Kidz California – March 2022
Speaker – TN Pathfinder – For the Love of Advocacy – February 2022
ABC Nashville chose her as Artist of the Week – January 2022
Speaker – Unicorn Foundation – Entrepreneurship Conference – December 2022
Art included on Beyond space suit – Exhibited at COP26, World – November 2021
Book readings – Hendersonville Public Lib – 2021/2022
Solo Exhibit – Art of the Human Spirit – Justo Love Coffee Tennessee – October 2021
Tomato Art Fest, Nashville TN Fall 2020
Her creation Afro Power won 3rd Prize in the Fly Your Flag contest. – Fall 2020
Germantown Art Crawl, Nashville TN – Fall 2019
Beale Street Art Crawl, Memphis TN – 2018/2019
Borderless Arts TN Exhibit- Preston Hotel Nashville TN – Fall 2018
---
November 2020 – Rainbow became a published author – the book she co-authored and illustrated – What I Gained and Lost During COVID19
March 2021 – 2nd book – Rainbow Rabbit Meets Oracle The Alphabet Creature
July 2021 – 3rd book – Balloons
March 2022 – 4th book – Adventures at the Zoo

August 2022 – ROGUE GIRLS RULE
* All available on Amazon.
Other Experiences:

Big announcement – August 1, 2022 –
SPONSOR – Give4Kidz Art and Film Festival, California October 2022

HOST – Twitter Space NFT Kids- We are the Future Crypto
Reporter – NFT Kids Mag
Art included in First NFT Kids Calendar

Donor – Save the Children Ukraine

NFT Art Exhibited – Rocket Gallery, Polygon Showcase-MARCH/JULY, Women in Tech, Greenzone, Spatial Park Mother's Day, Cryptovoxels Autism Acceptance Gallery, NFT Miami Week, F… CANCER AUCTION, NFTVIP – NYC, STRATOSPHERE/SPATIAL – NYC
RAinbow Mosho = Creative process = rogue girls
My thoughts and emotions while creating the Rogue Girl from BRasil
Parts of Ko'êju's story…
Every year for the Big Parade in Rio de Janeiro, this 9 year old Girl named Ko'êju from the Amazon participates in the Parade to save the Rainforest.
Knowing that she'll never let more Harm come to the Rainforest, Ko'êju does a Campaign to save the Amazon while many people who also want to help save it join in.
With Positivity, Strength & Courage by her side, Ko'êju becomes more and more determined to save Nature.
Her name means "Dawn" or "First Light".
rogue girls in the community
They want to be heard. They want to beautify your home.
Chiyo, the Rogue Girl from Japan, has found a new home. Yes, super Chelsea DiCicco who is a fellow author, saw her and fell in love with her story, the colors, the simplicity of her boldness.
ALSO:
Athen Estrella – Greekarican Me – Exhibited at Frist Art Museum, Teens Take the Frist (mid June till Sept 2022)
Rogue Girl France – Belle – Exhibited at #REFLECTIONS2022 TEDXYOUTH Munchen – July 2022
Collaboration with Atlass Group from Kazakhstan – I hosted Enlik in my Twitter Space and loved all the details about their history, cultural heritage and love for horses. I give you Rogue Girl – Kazakhstan
Are you ready to go Rogue?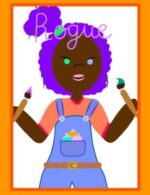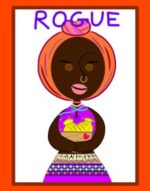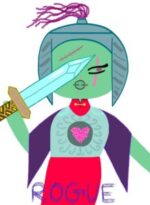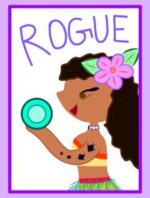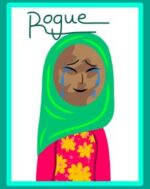 2022 Copyright. All Rights Reserved.